Archive for the "Golf" Category
March 11, 2017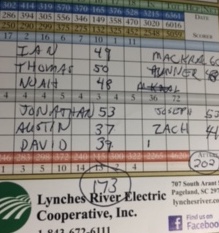 The varsity golf team captured its first victory of the season in an away match near Pageland, SC.
Austin Duncan and David Kidd paced the team average of 43 with 9-hole scores in the 30's.
After a few practices, the Mariners pack their clubs for another road match Monday, at a course south of Columbia.
Go Green!
February 11, 2017
Golf season is here and students in grades 6-12 are invited to come out for the co-ed varsity team. The spring sports season is a short one, given LPA's winter and Easter breaks. For this reason, Golf team formation will begin quickly. Below is the February schedule:
Tuesday, February 14, 4 to 5:30 pm Commitment day and practice

Thursday, February 16, 4 to 5:30 pm Practice

Monday, February 20, 4 to 5:30 pm Practice

Thursday, February 23, 4 to 5:30 pm Practice
Practices and matches will be at Spring Lake Golf Club in York. For more information, visit the "activity information" page under "resources" or click here.
Recent Posts
Categories
Archives