Archive for the "Cross Country" Category
October 17, 2015
The 2015 SCACS league state cross country meet enjoyed picture-perfect fall weather. The Mariner teams and individual runners took advantage of the crisp, sunny, and dry conditions to perform well against a field of strong runners from all over South Carolina.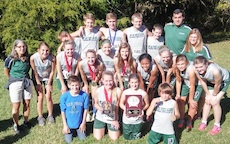 Many Mariners posted their personal-best times in the race, which meandered through the wooded trails of the SIM ministry campus near Carowinds in Fort Mill. When the dust settled after the two races, green and silver were the colors of success. The Lady Mariners captured first place, while their male teammates earned second place in the men's race. Adding the smiles, the individual first place awards were both earned by LPA student-athletes.
Coach Beth Donnelly gave credit to the hard work of the individual students and their hard work in training and exercises the past few months. She pointed out that the teams enjoyed really meaningful practices in the days leading up the state meet. Fruit follows growth, cultivating, and pruning!
Results overview
Lady Mariners: Team first place
Individuals (top 4 finishers form the team time)
Haden McCarter 1st place
Shauna Somerville 2nd place
Emma Shearer 3rd place
Peighton Quin 6th place
Mariner Men: Team second place
Individuals (top 4 finishers form the team time)
Isaiah Mayhall 1st place
Solomon Mayhall 9th place
Ben Judd 12th place
Tiernan Donnelly 18th place
Recent Posts
Categories
Archives