Info & News
For info on these categories, simply click the name.
Here is the latest news...
Guatemala Christmas
November 07, 2016
To Guatema with love. For Christmas.
On November 4th, secondary and elementary students partnered with Clubhouse Guatemala by packing gallon-sized zip-lock bags with toys and basic necessities to send to children in Guatemala.
In one of the several joint elementary- secondary events held during the year, each elementary student had a secondary student as partner in assembling the bags. Afterward, all the students enjoyed a time of refreshments and recreation outside.
Through generous donation from LPA families and the Bridge Church, the students were able to send over one hundred packed bags. Tim and Lori Sunday, the worship directors and team coordinators with Clubhouse Guatemala, visited campus on Monday, November 7th to collect the packed bags and share their heart for ministry with the secondary students. Parent organizers, Mrs. Vensk and Mrs. McCarter were on hand to help the Sundays pack the outgoing truck.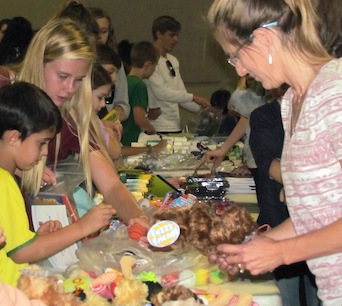 According to the ministry's web site, Clubhouse Guatemala is "sharing, serving, and growing the harvest of Jesus Christ." CG is currently serving Guatemalan families in 13 different communities, with Student Development Centers working with over 1000 kids and their families on a weekly basis. The organization impacts thousands of lives with ministries such as VBS, Block Parties, Medical Clinics, Home Construction, Water Filter Systems, Chicken Coops, and many other ways. Two church plants are in process and a seminary is now open. For more info, click here.