Info & News
For info on these categories, simply click the name.
Here is the latest news...
Fall Debates held
November 11, 2016
Series of 8 debates shows students' skills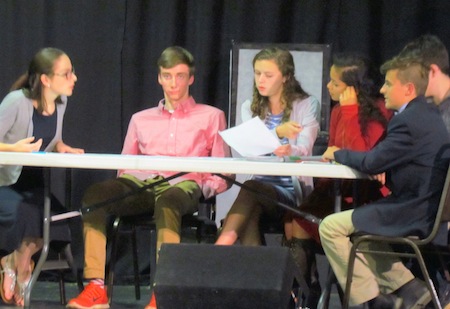 Secondary students recently showed a lot of mettle in facing each other in a series of grade level Lincoln-Douglas styled debates.
Throughout the fall semester, students in grades 7-12 participated in practice and planning sessions for the annual debates. Focusing on historical and moral issues, organized through the history courses, students were placed in groups according to class and assigned either affirmative or negative positions to varying issues.
Groups worked together to build supports and defenses for their stance and Friday they gave their argument presentations in front of a large audience of parents and fellow students. Though winners were awarded, everyone participating did an excellent job.
Future debates will focus upon fine-tuning the training for students and coaches alike. "We were very pleased with the students' work and execution," said head of school Louis Lemmon. "The students were prepared and represented themselves well. With continued training in how to sharpen their skills, we see the debate component as an important part of equipping students."
History instructors agree that the debates teach students two vital skills: to be prepared and to think on their feet under pressure.